Accessories have the power to pull any outfit together and really showcase your personal flare. Even a simple t-shirt and jeans combo can go from drab to fab with the right necklace, bag, or shoe choice. The little details matter! As both a fashion enthusiast and personal stylist, I'm always excited to see the new accessory trends each season. They're an easy way to update your wardrobe and prevent style ruts.
In this post, I'll highlight some of the hottest accessory trends for 2023, recommend timeless accessories worth investing in, and share my best tips for choosing pieces that work for your individual taste. Get ready to learn effortless tricks for looking pulled together from head to toe!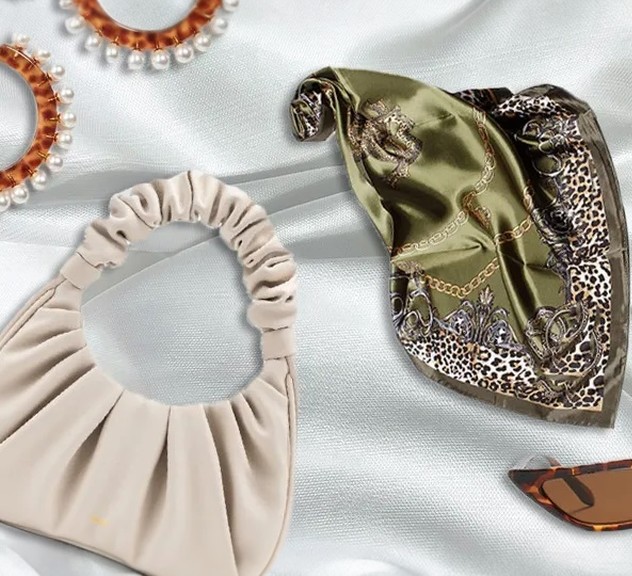 Current Accessory Trends for 2023
Accessories are where you can really have fun expressing your personal style. The trends this year range from nostalgic to futuristic, so you can pick and choose the looks that speak to you. Here are some of the top accessory trends I've been eyeing for 2023:
Bold Bucket Hats – Bucket hats aren't just for the beach anymore! From polka dots to animal print, bold patterns and textures are dominating. Feel free to mix and match with other prints for a playful chic vibe.
Beaded Bags – Colorful beaded handbags offer a tactile, handmade look. Go for an intricate style in a functional size that works for everyday use. Bonus points if you can find a conversation starter bag made by local artisans.
Chunky Rings – Cocktail rings that make a statement are having a major moment. Look for sculptural styles that stack together across multiple fingers. Don't be shy to mix metals, stones, shapes, and sizes.
Disc Drop Earrings – Say goodbye to dainty earrings! Oversized disc and plate silhouettes that dangle below the earlobe add architectural interest. Go for hammered gold, beaded, enameled, or crystal-encrusted.
Playful Headbands – Not just for Blair Waldorf, these updated cloth headbands are a lighthearted way to keep hair in place. Look for patterns like gingham, lightweight wraps with bows, and florals perfect for spring.
Futuristic Frames – Bold, geometric or flat-top sunglasses look straight off the runway. Look for interesting shapes and lens colors to take your eyewear game to the next level.
Pearls Reimagined – Classic pearls get a modern twist in funky shapes and large choker strands. Mix them with other jewels or make them the focal point.
Scarf Prints – Vibrant paisley, floral, and abstract printed scarves in silk, chiffon, or cotton lend color and whimsy to basic outfits.
Accessories That Pull Any Outfit Together
Beyond keeping up with yearly trends, I believe every wardrobe needs a few go-to accessory staples. They take an outfit from blah to beautiful in an instant! Build your arsenal with these timeless finishing touches:
Versatile Belt – A classic belt cinches in any oversized top or dress. Go for a few colors/patterns in leather, suede, or fabric. I love an Obi belt paired with flowy maxi dresses.
Bold Cuff Bracelet – Cuff bracelets attract the eye and make wrists look delicate. Try hammered metal, beaded, or carved for boho flair or sleek bangles for a polished effect.
Everyday Tote – A roomy, lightweight tote that holds all your daily essentials. Leather or canvas styles look chic season after season. Go hands-free on the go!
Great Sneakers – Cool kicks give casual outfits a street-style vibe. Chunky platforms or minimalist leather work for any aesthetic. Comfort is key when you're pounding the pavement.
Statement Necklace – An eye-catching necklace complements any neckline. Opt for natural stones, sculptural pendants, or layers of dainty chains, depending on your mood.
Designer-Inspired Sunglasses – Well-crafted sunglasses flatter your face and protect your eyes. Look for vintage-inspired cat-eye, aviator, or geometric frames. Go mirrored for extra flair.
Hoops & Studs – A pair of hoop earrings and simple studs cover you for daily wear. Go for sleek, lightweight materials like bamboo or clean metals.
Leather Belt Bag – Also called a waist bag or fanny pack, this hands-free accessory keeps necessities within reach. Look for soft leather styles you can wear in multiple ways.
With these building blocks in your closet, quick changes from desk to dinner and business to brunch become a breeze. You'll always have the key pieces to pull together a polished, complete look on the go.
Tips for Choosing the Right Accessories
When choosing accessories, consider where, when, and how often you'll use them. As you build your collection of bags, shoes, jewelry, and other finishing touches, ask yourself:
What's Your Style?
Pick accessories that emphasize your personal aesthetic – edgy, boho, preppy, minimalist, etc. The trends can help inspire, but always buy what flatters your existing wardrobe.
What's the Occasion?
Take venue, season, and formality into account. Save the big jewels and clutches for date nights and special events. Distressed leather bags and chunky sneakers fit casual Fridays.
What Colors Do You Wear Most?
Choose accessories like handbags and shoes in versatile neutral colors like black, brown, tan or white. Pops of color can come in through your seasonal statement pieces.
How Does It Coordinate?
Make sure accessories work with the rest of your outfit. Metallics pair well with other shimmery fabrics and jewelry. Leather bags match leather boots or belts. Contrasting colors help pop.
Does It Fit Your Lifestyle?
Opt for accessories suited for your regular activities. Backpacks and sneakers are great for commuting. Choose durable bags and comfy sandals for travel. Stash evening clutches in your desk drawer.
Can You Wear It Multiple Ways?
Look for versatile pieces like convertible purses with crossbody/shoulder strap options or jewelry like pendants that are removable from chains. This extends the cost per wear.
Is it Well-Made?
Quality construction from leather, metals, and other materials prevents accessories from falling apart and allows them to last. Check reviews and feel the hardware.
What's the Return Policy?
Buying final sale items can be risky. Make sure you can return accessories if needed so you don't get stuck with pieces that don't work.
Following these guidelines helps build an accessory collection, you'll actually use regularly. It's better to have fewer well-chosen accessories than overstuffed closets of random impulse purchases you reach for once a year. Curate your options carefully, and they'll bring you joy!
The right accessories have transformative powers over your look. Follow the latest trends or invest in classics – the styling options are endless! Use these tips to build an arsenal of accessories that makes getting ready each day fun and efficient. Simply add your favorite pieces to pull any outfit together.